Trio Dali tours Smalley's Piano Trio
in the Musica Viva International Concert Season in November 2016
November 2016. Trio Dali is an ensemble of soloists, who come together for the love of playing chamber music. For their 2016 Australian tour (7-19 November) as part of Musica Viva's International Concert Season, the Trio have chosen a program featuring Roger Smalley's Piano Trio, along with works by Mendelssohn, Beethoven, Chausson and Schubert (other works vary from concert to concert).
For details, please see the Musica Viva website.
Decibel performs Smalley in Perth
June 2016. The Perth-based new music ensemble Decible performed an all-Smalley concert in Tura's Scale Variable series at the State Theatre Centre on 7 June. Celebrating Smalley's early compositions for acoustic and electronic instruments, Decibel utilised vintage electronics such as synthesisers and tape alongside more contemporary computer adaptations.
For concert details, please see the AMC's online calendar.
New book: Roger Smalley - a Case Study of Late 20th Century Composition by Dr Christopher Mark (Ashgate 2012)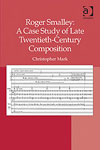 May 2012 Dr Christopher Mark's new book Roger Smalley - a Case Study of Late 20th Century Composition (Ashgate 2012) approaches its topic through an interview with the composer and a critical commentary of his major works. Through Smalley's work, the book discusses broader issues relevant to a whole generation of composers. Christopher Mark is Senior Lecturer in Musicology at the University of Surrey, UK.
For more details, please see: Ashgate website.
Praise for the Melba CD
'Through a Glass Darkly'

Smalley -
Through a Glass Darkly
Piano Quintet; Trio for Horn, Violin and Piano; String Quartet No 2. Melba Recordings (2008) MR301112
The Australian String Quartet
Roger Smalley, piano
Darryl Poulsen, horn
Paul Wright, violin
Reviews
"This disc contains some of the strongest chamber music written in this country (I was going to add in recent years but that seems unnecessary). (...)

"The Trio For Horn (Darryl Poulsen), Violin (Paul Wright) and Piano is probably the most impressive work in this genre since the Trio by Gyorgy Ligeti (...)

"This is subtle, complex music, beautifully played, richly rewarding at first hearing and on many hearings thereafter."
Peter McCallum
The Sydney Morning Herald
Read the whole review
"The title of this disc is 'Through a Glass Darkly', a quote from Corinthians that zooms in on humankind's clouded perspective. Recontextualisation and deconstruction of pre-extant material is a central idea of Smalley's thought, and the Piano Quintet (2003) incorporates one of Smalley's favoured compositional techniques, that of requestioning a musical fragment (...) the first eight bars of Chopin's Mazurka in F minor, Op. 68 No. 4 crops up in the third movement (scherzo); its chromatic harmonies also form the basis of the final chaconne. The first three movements (Overture, Intermezzo and Scherzo) are all relatively brief; the final chaconne equals their combined duration. The angular, energetically leaping Overture seems restless, while the Intermezzo continues the feeling of unrest via its fragmentary gestures. The finale is essentially a suite of character pieces utilising types used by Chopin. References to Chopin himself vary from the overt to the semi-concealed. Beauty of sound and of harmony seems to be a determining factor here, something which heightens the feeling of reflective Rückblick.
"The Horn Trio of 2000-2002, commissioned by the solo horn player on this recording, again reuses older material, but this time the theme comes from another work by Smalley. He takes the harp part from the very end of his Contrabassoon Concerto (...)
Darryl Poulsen is a real virtuoso. He is just as agile in the tricky lower register as he is in the stratosphere, and his slow, legato lines in the labyrinthine 'Mirror Variations' show none of the lumpiness easily associated with this instrument. The dramatic gestures of the finale are rendered with gusto...
"The recordings of all three pieces (the Quintet and the Trio hail from Perth, the Quartet from Adelaide) are exemplary in terms of clarity and distancing."
Colin Clarke
Tempo Magazine (UK)
Read the whole review
"a fruitful re-engagement with tonality... three meticulously crafted works... Performances are superb throughout. ***** 5 stars
William Yeoman
Limelight Magazine
More reviews are available
on the Melba Recordings website.
CURRENT CONCERTS
For a list of current concerts with Roger Smalley's music, please see the events listing on the AMC website.
RECENT ARTICLES

• Roger Smalley - eulogy (Darryl Poulsen, August 2015)
• Roger Smalley remembered (Andrew Ford, August 2015)
• Roger Smalley's homage to music (Ian Munro, July 2013 - on Smalley's Variations on a theme of Chopin)
---
Roger Smalley in memoriam
- a concert at the Sydney Conservatorium on
18 August 2016 at 6:30pm
August 2016. A concert of Roger Smalley's chamber music works will be organised on the first anniversary of Roger Smalley´s death on 18 August 2016 at the Sydney Conservatorium of Music's Recital Hall West.
The program includes Smalley's Suite for Two Violins, Clarinet Trio and Variations on a Theme of Chopin, as well as his late masterpieces, the Trio for Horn, Violin and Piano and the song cycle Nine Lives, settings of poems about cats.
For all details, see the Sydney Conservatorium website.
A Roger Smalley concert
in the ANAM Australian Voices series
April 2011. A concert dedicated to Roger Smalley's music forms the culmination of the 2011 Australian Voices series by the Melbourne Recital Centre and the Australian National Academy of Music (ANAM). The Smalley concert on 23rd November will be the eighth in a series of concerts celebrating the work of leading Australian composers.
The program will include Smalley's Piano Quintet (2003), his Trio for horn, violin and piano (2002), as well as the solo piano work Variations on a theme by Chopin (1989). The concert will be curated by Ian Munro and presented by ANAM's Artistic Director, Paul Dean. More details and tickets (Melbourne Recital Centre website).
ARCKO Symphonic Project
and Smalley's Strung Out
March 2011. The ARCKO Symphonic Project concert at the Fitrzoy Town Hall on 30 April 2011 includes a performance of Smalley's Strung Out (1989) for 13 solo strings, alongside music by four other Australian composers. More details (AMC Online).
ACO2 tours with
Smalley's work
February 2010. Roger Smalley's piece Footwork (also known as Birthday Tango) is included in Australian Chamber Orchestra's ACO2 Western Australian tour, along with works by Handel, Hindemith, Elgar and Britten. ACO2, led and directed by Helena Rathbone, will tour to seven locations in WA: Albany, Bunbury, Katanning, Manjimup, Margaret River, Mount Helena and Narrogin.
Lament (2005) now
available as pdf score and mp3
February 2009. A score of Roger Smalley's 2005 work Lament for the victims of natural disasters can now be downloaded for free from this website (pdf score, 79KB). Listen to an extract (mp3 1.44MB) of this work, premiered in a fundraising concert for child victims of the 2004 Boxing Day Tsunami. Performed here by Daryl Poulsen, horn, and Roger Smalley, percussion.
Morceau de concours
available for download

July 2008.
Download the sheet music
(pdf file 883 KB) for Smalley's
Morceau de concours,
commissioned by the 2008
Sydney International
Piano Competition. Morceau de concours is one of two Australian works that will be played by contestants in the Quarter Finals stage of the competition at Sydney's Seymour Centre on 21st and 22nd July. (Free download for a limited period of time.)
Roger Smalley's Birthday Tango
receives a Classical Music Award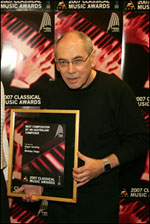 September 2007. Roger Smalley's piece Birthday Tango (retitled Footwork) has received the 2007 Classical Music Award in the category 'Best composition by an Australian composer'.
The work prompted a judge to comment that 'perhaps if Bartok had written a tango, it would have sounded like this'. Birthday Tango was commissioned by Barbara Blackman to celebrate the Australian Chamber Orchestra's 30th birthday.
Roger Smalley performed at the awards ceremony in Sydney on 12th September, playing his own Three Studies in Black and White.
The Classical Music Awards are presented annually by APRA and the Australian Music Centre. More information: APRA website and the AMC website.
(Click photo for a larger view.)